More Search Firms Forming Advisory Boards
BarkerGilmore, a New York-based boutique executive search firm specializing in building corporate legal and compliance teams, has formed an advisory board of 12 former general counsel and chief compliance officers.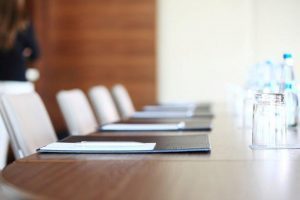 This team, many of whom have served in Fortune 500 companies, is charged with providing advisory and leadership development services, complementing the firm's core recruiting business. These consultants offer BarkerGilmore clients access to experience that it envisions will help them to optimize their organizations and accelerate profits.
The advisory board members bring decades of experience as executives within some of the largest corporations in the country. Having dealt with and resolved challenges similar to those facing today's CEOs, boards, GCs, and CCOs, these consultants offer practical insights for a broad range of topics and industries.
A Compliance Advisory 'Dream Team'
BarkerGilmore's advisory team includes: Michelle Banks, former global general counsel, corporate secretary and chief compliance officer of Gap; Roya Behnia, past general counsel and corporate secretary of Pall Corporation; Frank Fernandez, former secretary and general counsel of The Home Depot; Ann Harlan, former general counsel and corporate secretary of The J. M. Smucker Company; Vince Hatton, former general counsel of Corning Incorporated; Mark LeHocky, past general counsel and corporate secretary of Ross Stores; Bill Morelli, former general counsel of Ingram Industries; Marla Persky, former general counsel and corporate secretary of Boehringer Ingelheim USA; Helen Pudlin, former general counsel of PNC Financial Services Group; Tom Smith, former chief compliance officer of Oaktree Capital Management; Bill Solomon,former group vice president and general counsel of Ally Financial; and Gary Van Graafeiland; past general counsel of Eastman Kodak Company.
Managing partner Robert Barker sees a powerful synergy between this team and the firm's clients. "Each member of our team is motivated by a profound passion to help others succeed," he said. "Together we're helping clients make better decisions, lead more effectively, and deliver greater business impact."
Among other topics, the new team of senior advisors will focus on legal and compliance organizational structure, corporate governance and the corporate secretary function, executive coaching, leadership for women and diverse talent, effective reporting to the CEO and board, succession planning & talent assessment, building high performance teams, compliance and ethics programs and functions, business alignment, and change management & culture transformation. The team will also advise on unique challenges of individual clients.
John Gilmore, a managing partner, sees the unique perspective of the consultants as a significant value to today's corporations. "This is essentially the ultimate legal and compliance dream team – a group of exceptional people with impressive track records," he said. "Having this level of access to expertise is unheard-of. Executives and boards today are dealing with very complex, rapidly evolving issues and challenges, and no one is more capable of providing substantive guidance than those who've experienced the same and, in the process, fulfilled the directives of their organizations."
Search Firms Forming Advisory Boards
Advisory boards have come into vogue at a number of executive search and talent acquisition firms where informal, strategic advice has come to be valued by organizations seeking to expand their professional service offerings.
Allegis Partners formed a human resources advisory board, which provides guidance on services and strategies for the firm's human resources practice. It comprises five HR leaders from a variety of industries. They are: Ian Ziskin, former chief human resources officer (CHRO) of Northrup Grumman Corporation; Liz Huldin, CHRO of Gates Corp.; Caroline Starner, former CHRO of Oakley and current CHRO consultant; Gaby Toledano, CHRO of Electronic Arts; and Joe Bosch, former CHRO of DIRECTV.
"The advisory board comprises a diverse group of industry leaders who lend their knowledge and subject matter expertise to help us further our goals of being a thought partner to the ever-changing function of HR," said Mike Bergen, managing partner and global practice leader of Allegis Partners' human resources practice.
Last year, Benchmark Executive Search added five new security and risk specialists to its expanded advisory board. It gained the services of Michael Jackson, former deputy secretary at Department of Homeland Security; Bob Butler, managing director for Cyber Strategies LLC; Matt DeVost, CEO at FusionX; Mark Kelton, retired deputy director of the National Clandestine Service at CIA for Counterintelligence; and Randy Sabett, former member of the Center for Strategic and International Studies Cybersecurity Commission.
"When Benchmark entered the Federal market from scratch in 2007, the first strategic initiative was to recruit a world-class advisory board,"
said Jeremy King, president of Benchmark.
"We were lucky enough to attract former senior officials from DHS, CIA, NSA and DoD. These esteemed leaders helped provide deep diligence on both prospective clients and candidates."
Additionally, he said about Search Firms Forming Advisory Boards,
"they were a great source of 'tribal market knowledge' which helped us be a better informed partner with our clients."
He said that once they learned Benchmark's model and dedication to excellence, new client introductions came rolling in.
"Most importantly, they became close trusted friends and we have reciprocated by helping them find board, advisor and consulting roles. I highly recommend recruiting top advisors to be a force multiplier to your firm's partners."
Aside from bringing on advisory board members, search firms are also beefing up their boards of directors as well. Russell Reynolds Associates recently brought on Elizabeth Beshel Robinson, former global treasurer of Goldman Sachs, to serve as a member of its board. "We are pleased that Liz will be joining our board of directors," said CEO Clarke Murphy. "Her extensive experience and her broad skill set will be a wonderful addition to our board." In an era of heightened M&A activity across the top-end recruiting sector, Ms. Robinson brings a background that might also be seen as crucial to the search firm's future.
---
Source: http://huntscanlon.com/search-firms-forming-advisory-boards/